prevAnother Big Entry in Gents Drybrough Cup
()
Weekend Golf Resume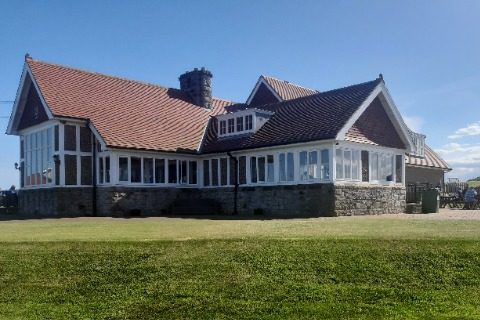 Another fine day on Saturday greeted an entry of 103 in the Drybrough Cup. Andrew Harle (Jun) came out on top with a fine score of 41 points, ahead of Tim Saddington and Nick Whitton both with 39's and Michael Hopper, Peter Burn and Ian Armstrong all on 38. Ian unfortunately misses out on a sweep prize, the first 5 named having their winnings added to their EPOS accounts.

We are gradually whittling down the number of irregularities on scorecard submissions, so a few members may receive a reminder on the correct procedures, but we are very mindful of the substantial changes being asked of members and no penalties for mistakes are being imposed at the moment. Please try and help however by following the changes requested.

Some gents have asked for clarification with regard to the difference between a 'Course Handicap' and a 'Playing Handicap'.

Your course handicap is the figure that you arrive at by applying your Handicap Index figure to the Course Rating Table displayed near the first tee and other notices around the Club. Until such time as we can display Handicap Index lists in the Clubhouse the best way to find your Handicap Index is to open your How-did-i-Do program and the figure you need will show in the top right hand corner of the home page. The course handicap figure you obtain from Course and Slope rating table is that you would normally use in social golf and non qualifying competitions.

An added complication this year however is that England Golf have made it mandatory for Club's then to apply a competition allowance for qualifying events. In the case of singles competitions (Medal, Stableford and Bogey) this has been set at 95% of the course handicap. The reality is that players with a handicap of 10 and under will use their course handicap, those with handicaps 11-30 will lose 1 shot and those with course handicaps of 31 and above will lose 2 shots.

To reiterate, if you are unsure of these changes, simply record your gross score in the system and it will do the sums for you - nobody will be penalized for not inserting the correct handicap figure.

Next Saturday's main competition will be our first medal competition of the year, The Millennium Putter with the alternative of a Yellow Tee Stableford for those not wishing to play off the White's. These competitions will also be the first qualifying rounds for the Des Duffy Eclectic (Gross) and Cresswell Trophy Order of Merit (Nett) that will run through the year. Further information will be provided as these events progress.